For years, professional painting contractors have relied on the top-quality performance of WoodScapes® Exterior Stains to give their customers' properties a rich, beautiful appearance that stands the test of time.
Now, with the introduction of WoodScapes® Rain Refresh™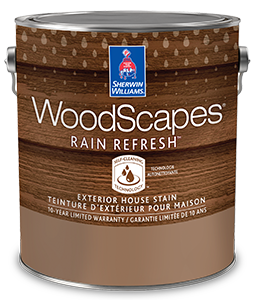 Solid Color Stain, you have yet another option in the Woodscapes product line-up to offer your customers. Designed to keep vertical exterior wood surfaces looking beautiful with minimal maintenance, this new exterior wood finish features an advanced self-cleaning formula that blocks tannin bleed and offers excellent adhesion, all while keeping wood surfaces cleaner.

You and your customers both benefit from using Woodscapes Rain Refresh:
Self-cleaning
The most unique benefit of WoodScapes Rain Refresh Solid Color Stain is that it helps exterior surfaces look freshly-painted longer. The secret is Self-Cleaning Technology™, an advanced coatings innovation from Sherwin-Williams that enables dirt and debris to wash away from the coated surface upon contact with rain or a water source.
Offering homeowners a finish that looks new longer with less maintenance can really distinguish you from your competition. Helping your customers get more out of their investment in repainting is a value that is easy for you to position and homeowners to understand. Whether you use as your standard coating or an upgrade offering, a home that looks newly-painted longer and more time to enjoy it is something every homeowner can appreciate.
Rich, fresh appearance
Another important feature of this new wood finish product is its resistance to dirt pickup and agents that inhibit the growth of mildew on the surface of the coating to help maintain that fresh appearance.
While you will notice the rich appearance that WoodScapes Rain Refresh brings to your projects, your customers will appreciate the fresh look that this solid color stain will have on their homes month after month after month.
Pro-friendly application
WoodScapes Rain Refresh was designed for easy application. Not only does it provide great adhesion to the surface and resistance to peeling, the outstanding hide, coverage and block resistance make it easy for you to achieve a nearly flawless finish. That means better coverage in fewer coats to get you onto your next project more quickly. Extends the staining season
Like all WoodScapes coatings, WoodScapes Rain Refresh is formulated to apply smoothly even when air, surface and material temperatures are as low as 35° F (2° C). This extends your project season, ensuring you can complete your customers' projects even when temperatures drop.
Blocks tannin bleed
Wood tannins are naturally occurring acid chemicals found in tree sap. They can remain dormant in dry wood and be reactivated when wood gets wet.
If wood is painted or stained with products not specifically designed to trap tannins, the tannins can bleed through to the surface resulting in brown, tan or yellow stains.
Discoloration can also occur if wood is not fully dry when it's coated. Tannin bleed is most common in redwood, cedar, and mahogany, but can occur with any kind of wood.
Like all WoodScapes products, WoodScapes Rain Refresh is specifically formulated to block tannin bleed. Your homeowners benefit from a more consistent finish over time, while you can worry less when painting.
The bottom line
WoodScapes Rain Refresh is an excellent upgrade opportunity for you to offer your residential customers who want the best finish for their home's wood exterior. Use this new solid color stain to provide beautiful, long-lasting results and help customers relax and enjoy their outdoor spaces.
---
This story was originally published in the print edition of the Spring 2023 issue of Pintor Pro magazine. ©2023 Randall Reilly.