In this article, we go behind the scenes to interview professional painting contractor Gerard Gallagher about his specialty: painting historic Victorian homes in the resort town of Cape May, New Jersey.

Located where the Delaware Bay meets the Atlantic Ocean at the southern tip of New Jersey, Cape May is one of the country's oldest vacation destinations. Billed as "America's Original Seaside Resort," Cape May was also recognized as having one of the nation's top 10 beaches by the Travel Channel.
The city is also known for its architectural diversity, with numerous properties in the late Victorian style. It's in that market segment that Cape May Painting has earned its reputation. Pintor Pro editorial director Mike Starling sat down with company owner Gerard Gallagher to talk about his work on these historic homes.
How did you first get into these kinds of projects?
The beauty and charm of Cape May has so much to do with the fact that the Cape May Historical Preservation Committee has enough influence in town that the painting and maintenance of the old Victorian homes and bed and breakfasts is a very high priority with all the owners, especially the painting. With that being said, if you can't work on the old Victorians, you can't work in Cape May. If you can, there is a lot of work.
What are the biggest challenges and rewards of working on these jobs?
The challenge is that all these homes are wood, and we live on the beach. There is salty, moist air in Cape May which leads to wood rot if the surface is not prepared properly before applying paint. That is labor-intensive work. After finishing one of these projects, I feel that the time that me and my men put in really shows. Some transformations are rather dramatic!
How important has becoming a lead-based paint certified company been for these jobs?
I could not imagine working in Cape May without a lead-removal certification. Any house built prior to 1978 can potentially contain lead-based paint, which in Cape May City is just about all of them. The work that is needed to comply with lead specifications increases your painting estimate, so it's easy to get underbid by someone who isn't certified. We make sure the homeowner is aware of the necessary precautions needed to comply.
Is there a general surface prep routine you follow? Or is every job different?
There is a general routine that we follow when painting one of the older ones. It starts with taking most of the surfaces down to bare wood. Next, a complete oil prime, caulk and putty, followed by two coats of Duration® Exterior Acrylic Latex Satin finish.
Why Duration?
I use Duration because it lasts down here in Cape May. I am fortunate to repaint some projects that I did in the past and I can see how Duration holds up. I've tried others, but Duration is the best for my applications. I've also used Duration on trim along with Emerald® Urethane Trim Enamel on doors.
What are your preferred interior paints?
I love ProMar® Ceiling Paint white. It's on all of my ceilings. I also refinish kitchen cabinets and I can't say enough about Emerald Urethane Trim Enamel. I used to use a different product but I'm switching over to EUTE for those jobs. It's durable, painter-friendly and has a beautiful finish.
A lot of these homes have multiple paint colors to keep with the historic traditions. Could you give us a general overview of how colors are selected?
There are no specific guidelines when painting in Cape May. Some people want to bring their home back to "era" status and they will do some research on the original colors and I will always oblige. Most of the time the color selection goes "same to same," with a refresh/repaint every several years.
How does your paint supplier help you with color?
Sherwin-Williams has been incredibly helpful to me on every aspect of my business since day one and they haven't taken their foot off the pedal since. For color matching, I can rely on my rep Frank Rodriquez to come out to any job where I feel I can use some assistance. He gives me color options and palettes that I bring to my customers.
What is the best business advice you've ever received? What advice do you have for young people just getting started in the trade?
The best advice given to me was: Don't compromise your standards – your reputation will carry you. My advice for an up-and-coming contractor is to work hard and keep putting your money back into your company – your workers will appreciate it.
What keeps you up at night as a business owner?
The biggest challenge for me is finding the right workers. This is a seasonal town and I need good workers for my spring schedule.
What do you like most about running your own painting company?
I like the quality control of having my own business. Cape May is a small town and one of the most challenging environments due to its location. There are historical tours going through and looking at your work every day in season. That is very gratifying. I really like my job.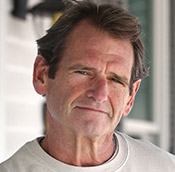 ---
This article was originally published in the Summer 2022 issue of PPC magazine. ©2022 Northbrook Publishing. Written by Mike Starling, editorial director of PPC and Pintor Pro magazines. Photography by M.P. Myers Photography. Read more stories about successful painting contractors in the Pintor Pro magazine archive.