Pros know that the quality of the coatings they use has a huge effect on the final finish and durability of any paint job. Bottom line: Better ingredients such as pigment, binders and additives mean better performance. And that can translate to happier customers.
A high-quality coating starts with high-quality ingredients that allow paint to be applied more easily, look better and last longer.
A few of the benefits pros reap from working with premium paints include:
Saving time and money by achieving a quality finish in fewer coats
Solving unique challenges with advanced paint technology
Increasing profits with premium performance products
Exceeding expectations to gain customer referrals
Sherwin-Williams premium paints offer revolutionary technology to ensure unsurpassed performance on all your interior and exterior jobs. Let's take a closer look at specific premium products that you can count on to deliver beautiful, long-lasting results for your residential and commercial customers.
The premium choice for interior walls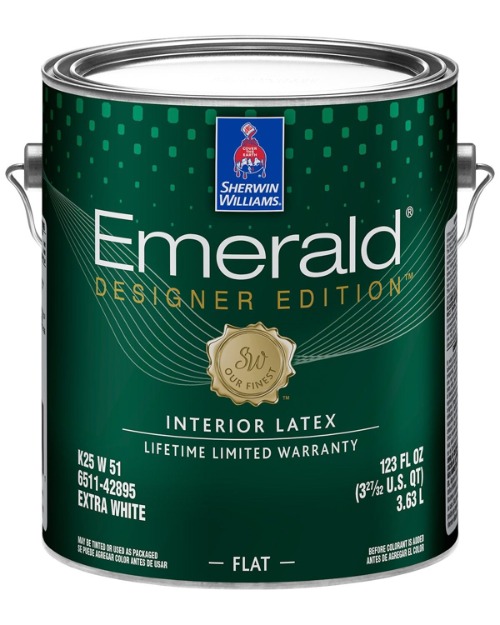 If you're looking for the ultimate interior wall paint, look no further than Emerald® Designer Edition™ Interior Latex.
"Our finest interior latex paint and primer in one is the perfect choice for giving walls a virtually flawless appearance," says Christine Rich, Sherwin-Williams Residential Repaint Marketing Director. "It combines the luxury of a smooth, uniform finish with our best hide yet."
Emerald Designer Edition offers advanced washability in all finishes and has outstanding resistance to water streaking and spotting. Plus, it contains anti-microbial agents that inhibit the growth of mold and mildew on the paint surface.
This premium interior paint is also available in an exclusive collection of 200 new colors, including brighter, purer whites.
See all the colors in the Emerald Designer Edition Collection of 200 new colors
The premium choice for interior and exterior trim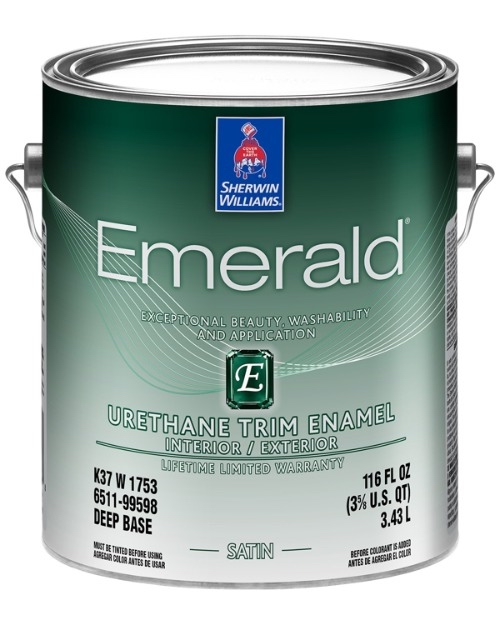 Since its introduction, Emerald® Urethane Trim Enamel has quickly become the trim paint of choice for more and more professional painting contractors.
This water-based enamel resists yellowing compared to traditional oil-based coatings and creates a hard durable finish that withstands the wear and tear of frequently cleaned and used areas. Emerald Urethane Trim Enamel goes on in fewer coats and can be used for interior and exterior projects alike.
Plus, with up to four times faster dry to re-coat time,* Emerald Urethane Trim Enamel shines when it comes to productivity.
*Product dry to recoat time of 4 hours based upon testing conducted by or on behalf of Sherwin-Williams. Select competitor times based on information publicly available in product Data Sheets for similar product technologies with stated, average dry to recoat times between 4-16 hours.
A new premium product for ceilings
For ceilings, you can't beat the ultra-bright, high-performance finish and one-coat coverage of Premium Ceiling Paint from Sherwin-Williams.
"This new coating is our brightest, whitest ceiling paint yet with high light reflectance and an ultra-flat sheen that makes minor surface imperfections virtually disappear," Rich says.
Premium Ceiling Paint is designed to offer one-coat coverage with self-priming properties reducing overall time spent on your project.
Plus, it's fast and easy to achieve a high-quality finish thanks to excellent hide and reduced spatter. The non-lapping formula blends seamlessly for an exceptionally uniform finish, reducing the worry of lap marks during application.
The premium exterior paint for moisture resistance and temperature extremes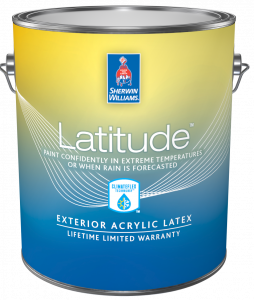 Latitude™ Exterior Acrylic with ClimateFlex Technology™ helps keep projects on schedule with advanced technology that resists early moisture and maintains high performance standards despite temperature extremes.
This paint develops early moisture resistance in as little as 30 minutes,** so you can paint with confidence even when rain or heavy dew is forecast. Latitude applies smoothly even when air, surface and material temperatures are as low as 35°F (1.67°C) or as high as 120°F (49°C).
To keep the finish looking fresh, its durable finish protects against peeling, cracking and dirt pickup in extreme climates. Outstanding hide, coverage and block resistance make it easy to achieve a nearly flawless finish.
**Based on Sherwin-William Advisory Board Research panel (n=360) professional painters surveyed estimate they have stopped painting between two and three hours early due to the impact of high temperatures.
Part of PRO+ductive Solutions
Latitude Exterior Acrylic and and Emerald Urethane Trim Enamel are two of the coatings, tools and services highlighted in PRO+ductive Solutions, an ongoing initiative started by Sherwin-Williams to help contractors save time, complete jobs quickly, and save money to generate more profit.
---
Want to know more about what goes into producing premium paint products? See the article Paint Quality: Why it Matters on the Sherwin-Williams contractor website.