Sherwin-Williams recently launched the Job Board to help painting contractors find and hire talented painters to their teams. The free platform comes in response to the labor market shortage, one of the biggest hurdles facing many painting businesses today.
"If you ask a contractor, 'What's the number one challenge you're facing in your business,' they typically say, 'I can't find enough help.' They have a lot of projects lined up, but it's hard for them to find the right employees," says Gabby Torres, Marketing Director, Pro Contractor Programs, for Sherwin-Williams.
"The purpose of our new Job Board is to connect employers and job seekers. Now employers have a platform where they can easily log in, post a job, and get applications from painters who are currently searching for work. It's the painting industry's first free job board, so it's a pretty big deal."
Getting registered and posting a job listing takes less than 15 minutes. Just follow these steps.
1. Register for an account
Go to jobs.paintprotraining.com. Click "Register" in the toolbar.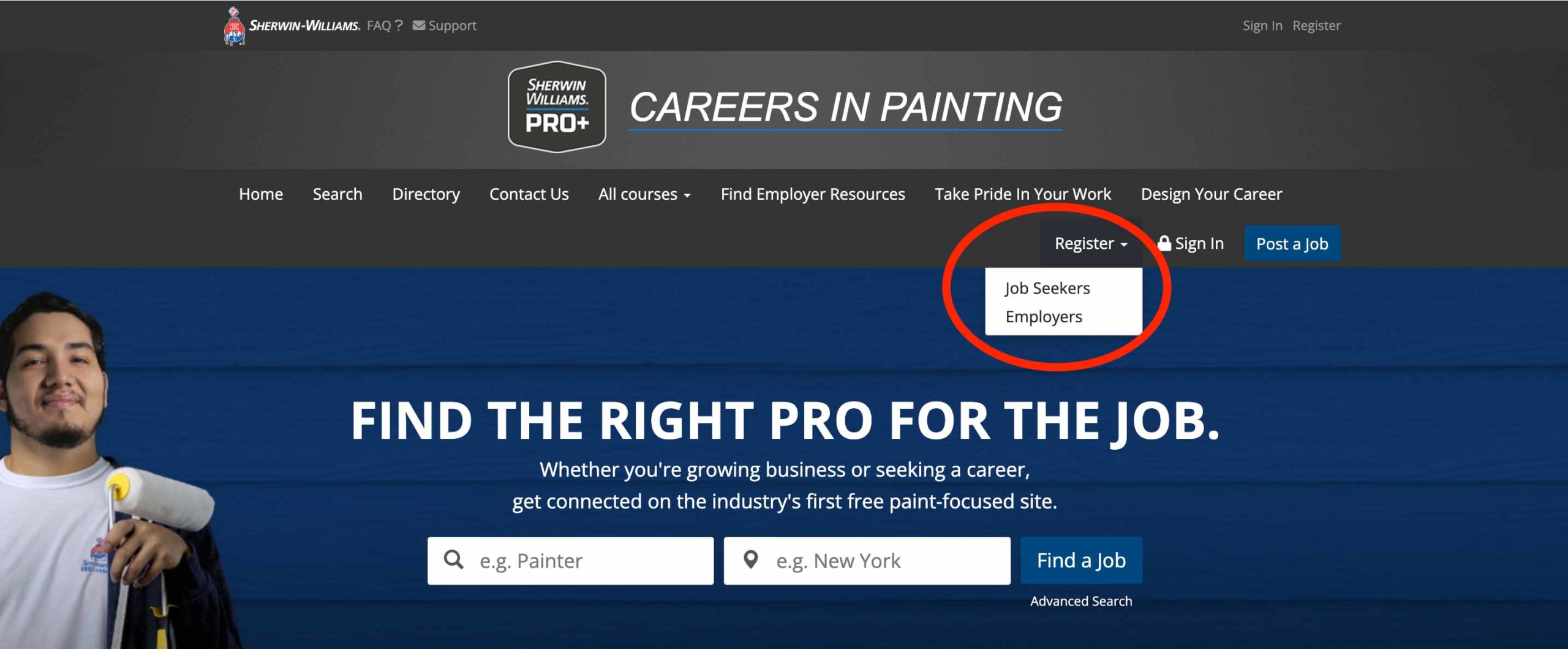 Under "Register," you'll get two options: "Job Seekers" and "Employers." Click the one that best describes you. Your Job Board account is not the same as your PRO+ or wholesale account; you will need to register specifically as either a Job Seeker, who can apply to job listings, or an Employer, who can post job listings.
Next, you'll be taken to a Registration page, where you need to provide information about yourself. When you're done, hit "Register" at the bottom to create your account.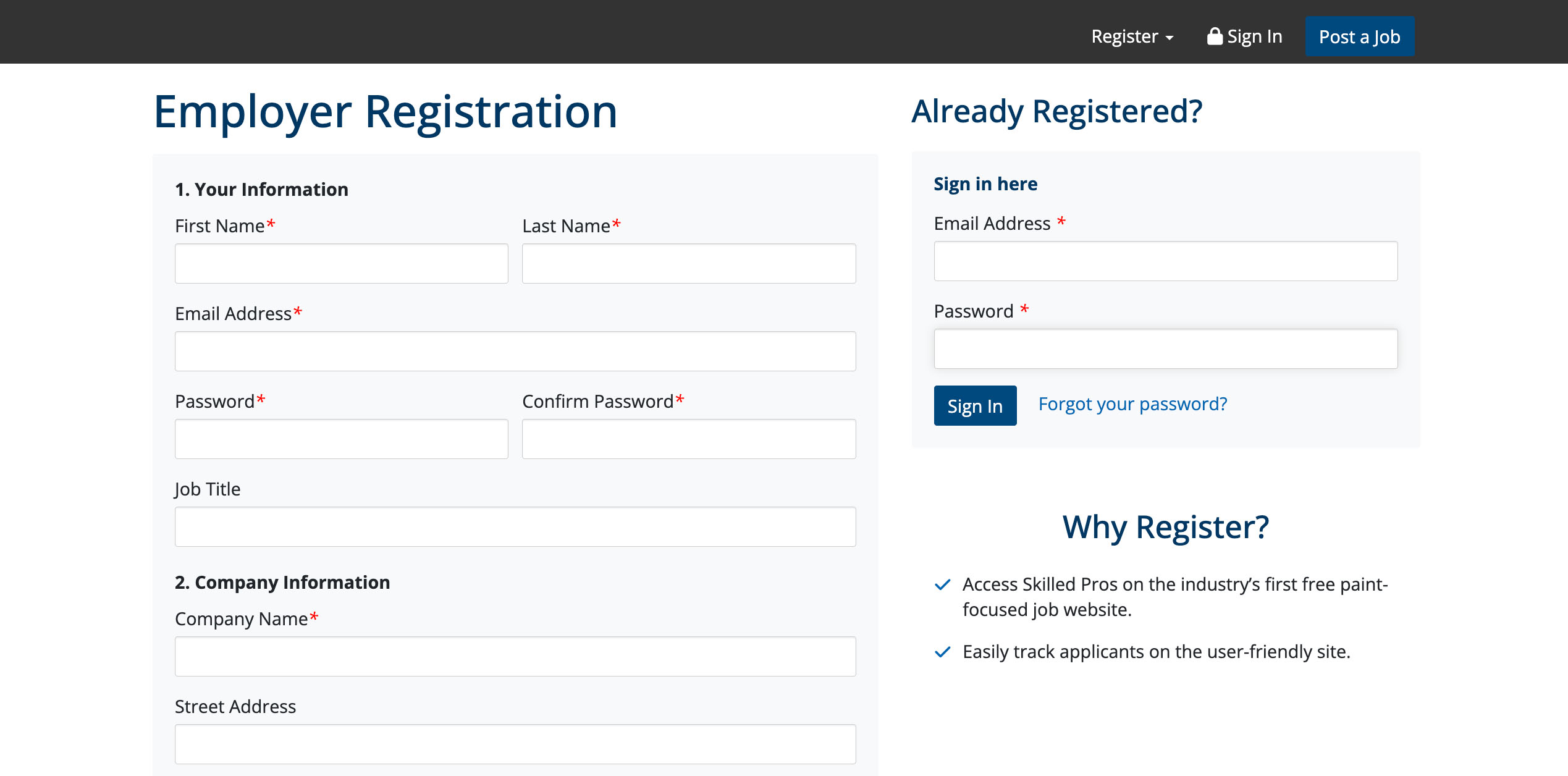 Congratulations! You've registered your Job Board account, and you will receive an email to confirm your registration.
2. Set up job posting
Once registered, Employers can post a job listing. To do this, click "Post a Job" on the toolbar, or click "Post a Job Now" on the dashboard.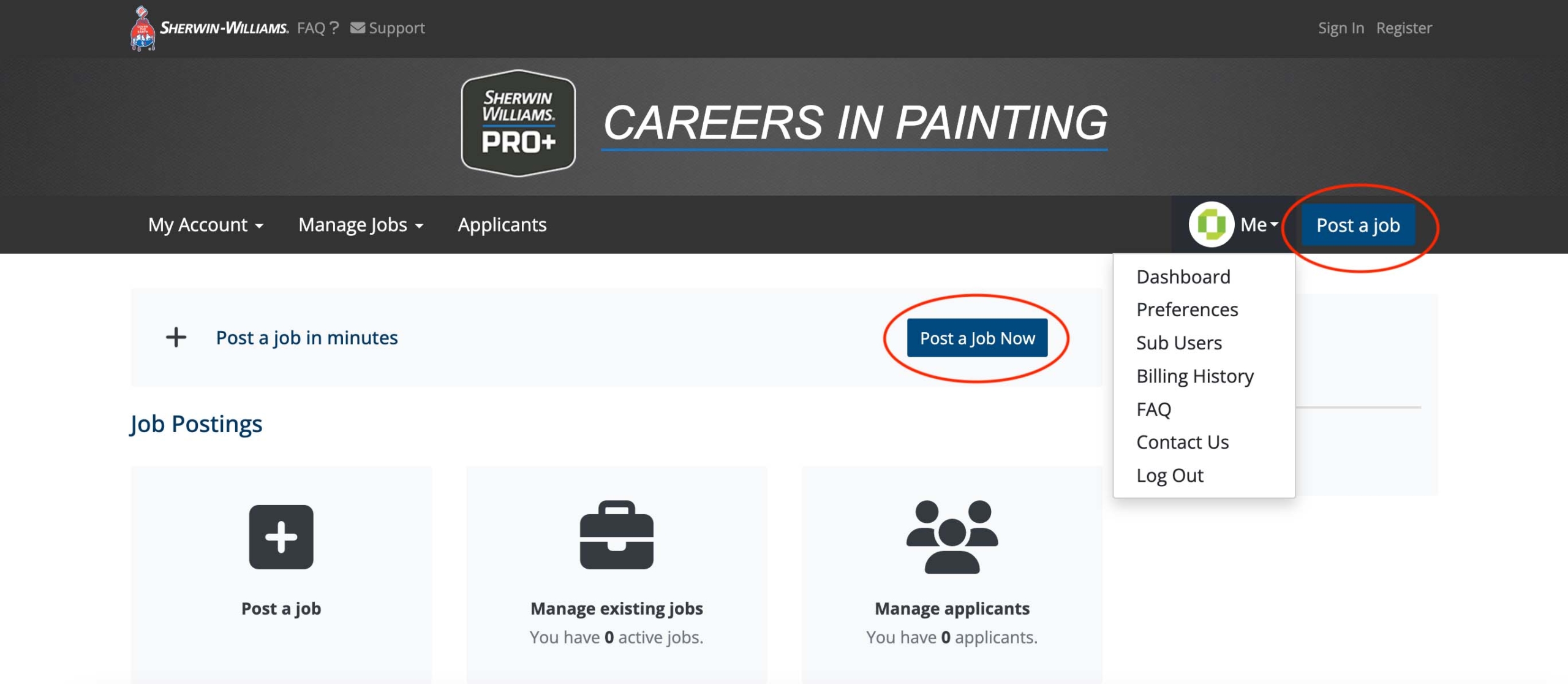 The first time you post a job, you'll be taken to this page. Hit "Create Job Posting."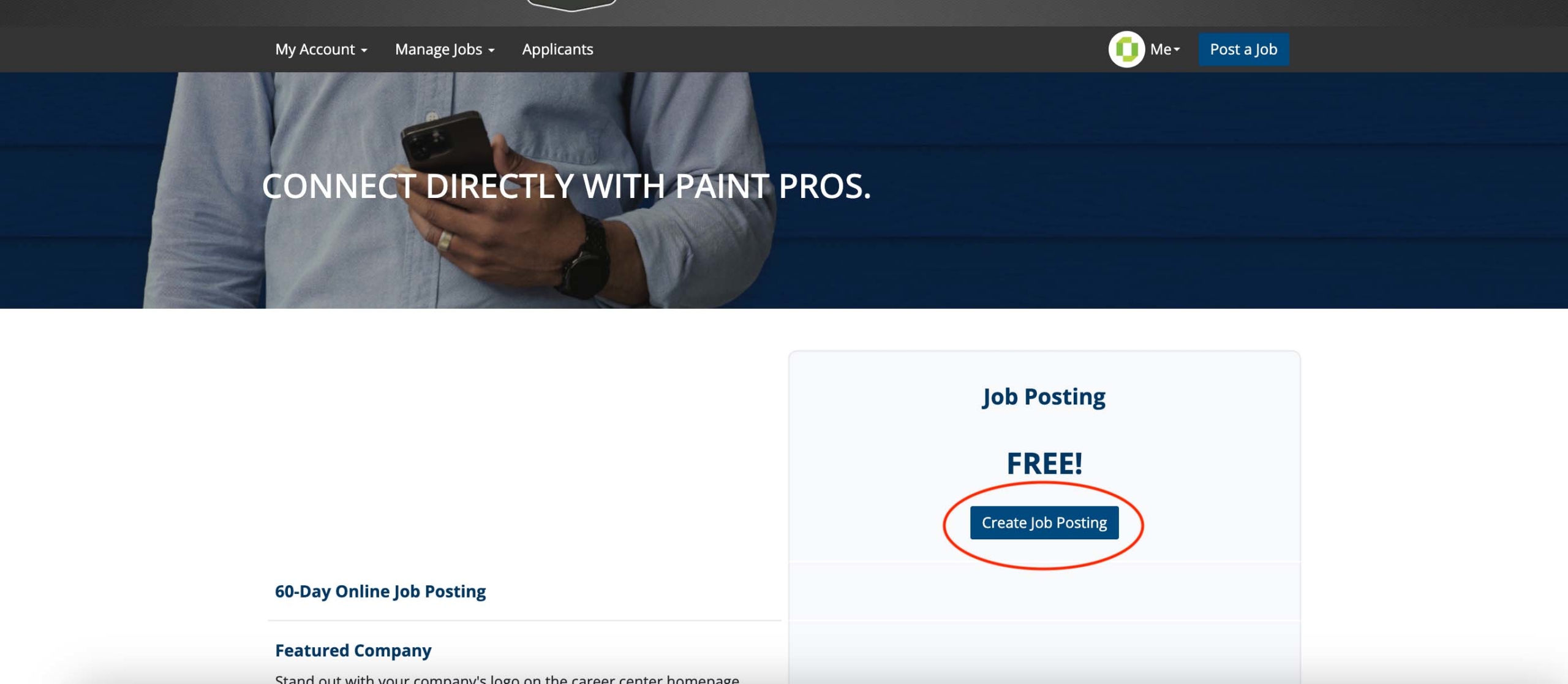 Next, you will be sent to a page that appears to ask you to spend money. However, you should see that the transaction total is for $0.00, and that no financial information needs to be input. The Job Board service is free, and you will not be charged money to post a job listing. Click "Proceed to Checkout."
You'll be taken to the "Post a Job" page and given a notification saying your "purchase was completed successfully" (even though no charge was made to your account).
3. Post Your Job Listing
Now you can fill out all the information for your job listing. This includes:
Job title
Job category
Job description
Education/experience required
Job location
Salary range and type
Company name
Where to send candidates' applications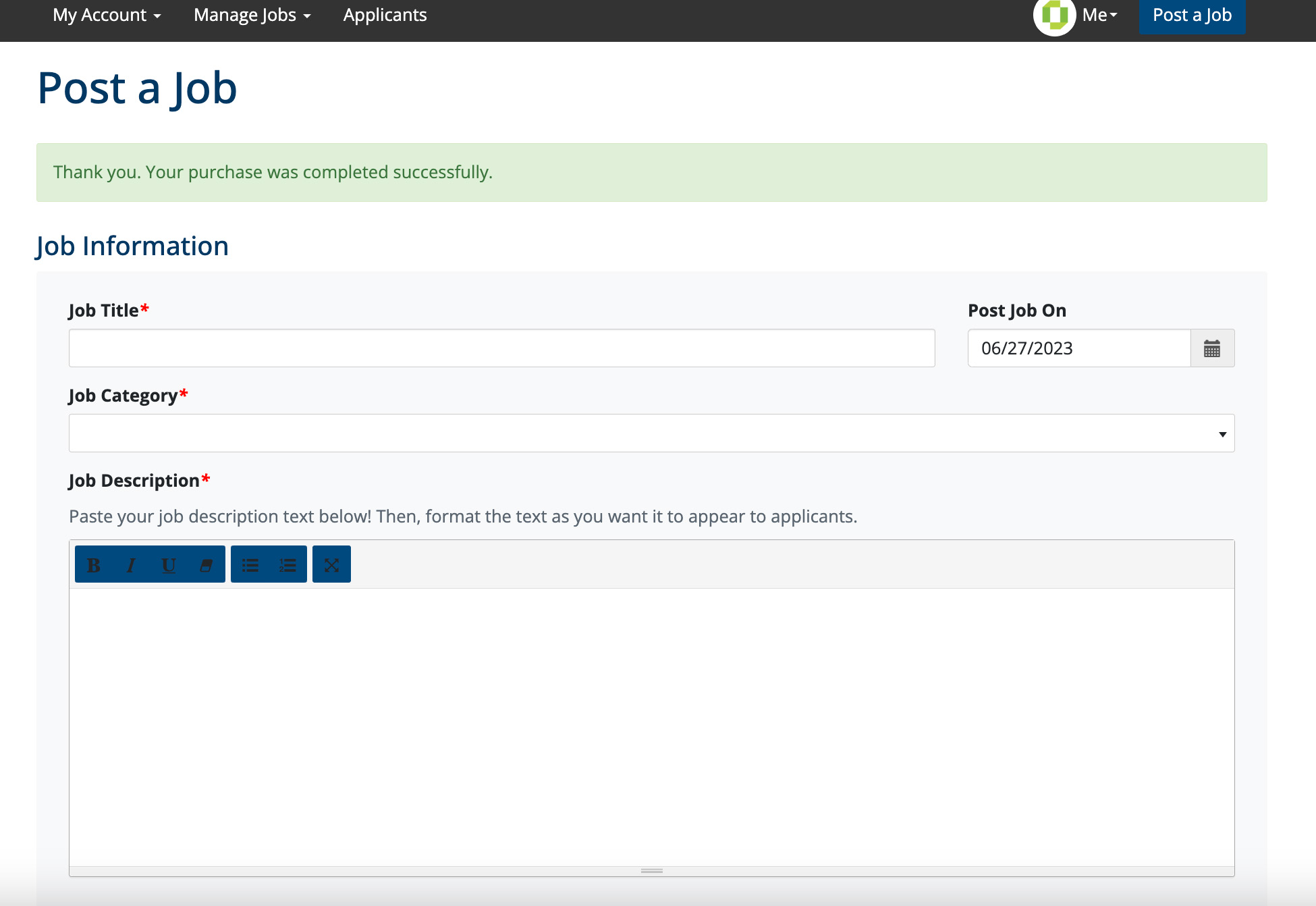 Once you've entered everything, hit "Preview" to proof the job listing before it goes live. Then click "Post Job" to publish it on the Job Board.

If you need to edit a job listing after it's been posted, hit "Me" on your taskbar, then hit "Manage Existing Jobs" from the dropdown menu. Select "Edit" from the list of action dropdowns to make the desired changes. Note that it can take up to 10 minutes for your changes to appear on that job when viewed in the search results.
Conclusion
For any additional questions, visit the FAQ section on the site (there's pages for both Job Seekers and Employers), or speak to your local Sherwin-Williams representative.
Since the Job Board's launch in June, Torres says she's been excited to see how much users have been enjoying and taking advantage of the platform.
"The Job Board has a lot of traction since it launched in June," says Torres. "This new platform is helping support our Pro Contractors recruiting efforts, and we can't wait to see where it goes next."